Where to Buy Recycled Engagement Rings
1. Buying Used Diamonds from Consignment Jewelry Near me?
2. Pawn Shops & Repurposed Diamonds
3. Used Luxury Jewelry at Fine Auction Houses
4. Should you ever buy Diamonds on eBay?
5. Critics Pick: Used Diamond Specific Online Marketplaces
6. Buy Preowned Wedding Rings from a Friend?
Bonus Content: Buy Pre-owned Engagement Rings from an online Retailer?
Our Selection: Where is the best place to buy diamonds?
Buying a diamond can be an overwhelming experience, especially when looking to buy a used diamond or preowned engagement ring. However, given the right tools, buying a used ring can be a rewarding journey.
We created this short guide to help you start this journey to find your partner the perfect preloved diamond ring.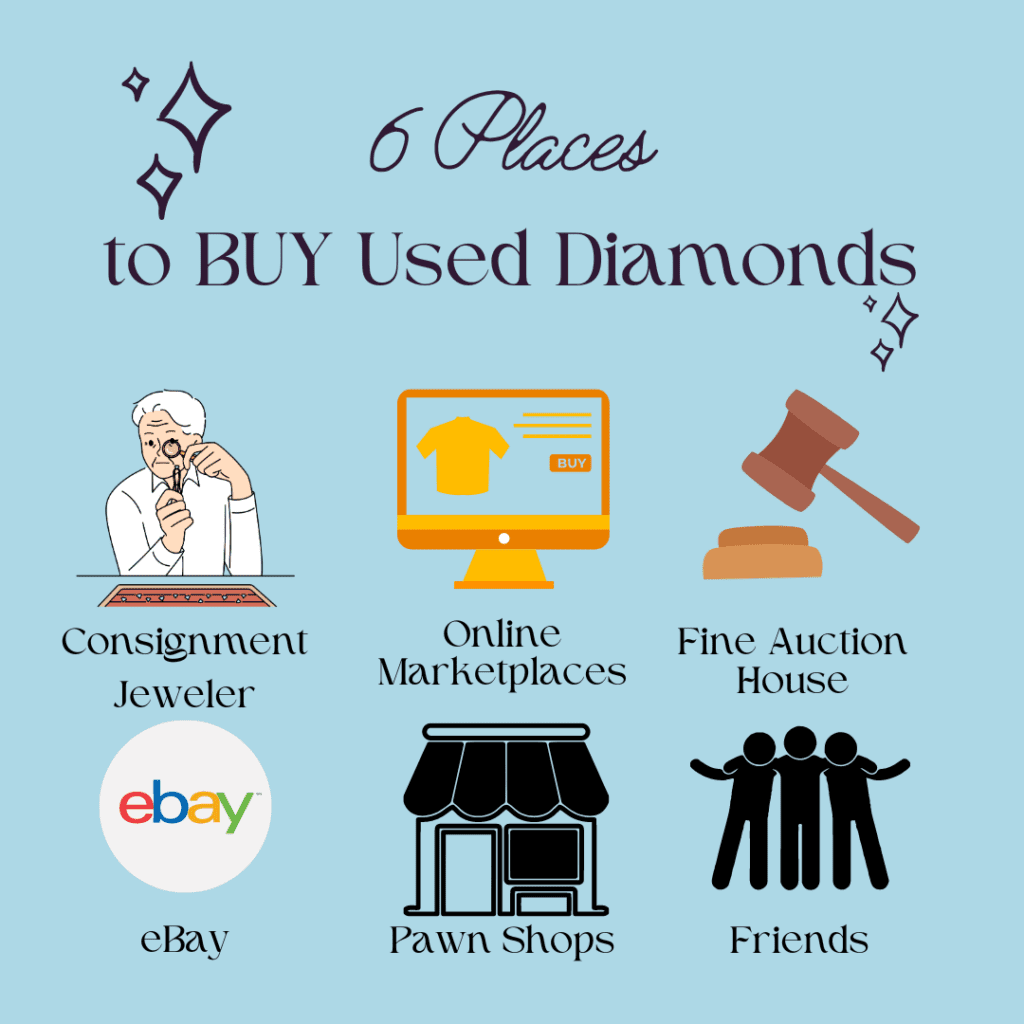 1. Buying Used Diamonds from Consignment Jewelry Stores
Pros
You can try on preowned jewelry in person

A used jewelry store near me.

You might have an existing relationship with your neighborhood jeweler.

You might be able to negotiate the price in person with the jeweler if you pay in cash.

You can trade in an existing gold or diamond jewelry item as part of the deal.
Cons
Jewelry stores that buy diamonds have extensive overhead operating costs and charge a hefty markup to make a small profit.

You are not getting extensive choices in preowned engagement rings

There are no guidelines for setting a market price on previously owned diamonds in a brick and mortar jewelry store.

Jewelers often charge retail prices, not wholesale prices, for jewelry, so they will likely inflate the retail price of this item to represent their understanding of the market.

Check out our complete guide to buying used diamonds here. https://www.diamocycle.com/a-guide-to-buying-a-used-diamond
2. Pawn Shops & Used Diamonds
Pros
You could purchase a deal on a unique vintage jewelry piece.

Diamond jewelry for less.

Pawnshops give jewelry loans, so they own used diamonds at low costs so that they may sell you a large diamond at a low price.

Pawnshops can be flexible in their prices, and savvy customers can use their negotiating skills to save money.

Pawnshops have an ever-changing inventory, so checking frequently and acting fast with cash in hand is a must when shopping for second-hand wedding rings at a pawnshop.

Check out our complete guide to buying and selling used diamonds at a pawn shop. A Diamocycle Guide to Selling or Buying Diamond Jewelry in a Pawn Shop
Cons
Pawnshops have limited ways to test for synthetic and diamond simulants, and you could purchase one of these unintentionally.

Pawnshops generally do not employ trained staff knowledgeable enough to identify treated diamonds. Treated is the term used to describe diamonds that undergo procedures to improve their appearance. As a result, they are significantly less valuable than unaltered diamonds.

Used wedding rings are not certified as authentic.

Pawnshops do not regulate their prices by any market other than store or chain policy, so there are no engagement ring resale value standards. Check our diamond price calculator here. Diamond Price Calculator — Diamocycle
3. Used Luxury Jewelry at Diamond Auction ( Fine Auction Houses)
Pros
Second-hand rings priced in the six-seven figure range are not uncommon.

For the wealthy, a way to monetize or invest in preowned luxury jewelry

A steep discount to retail and the suggested platform for buying valuable and important used jewelry with a storied provenance.

Depending on the auction timing, attendance, and overall economy, purchasing at market price or below market price for a preowned luxury item is possible.

Buyers have accessibility to significant collections of jewelry from the estates of collectors.

A genuinely riveting shopping experience.
Cons
A knowledgeable concierge can add value when shopping in this ring auction. In addition, consumers would be wise to hire an expert advisor to guide them on jewelry resale value.

Diamond auctions are a market for the ultra-wealthy and are not assessable to the average person who buys and sells diamonds.

Diamonds fluctuate in value, and an investor can quickly lose money buying or selling in a diamond auction.

A buyer's premium is a standard policy of diamond auctions.

See our piece on diamonds as an investment. What to Know Before You Begin to Invest in Diamonds — Diamocycle
4. Pre-owned diamonds on eBay
Pros
eBay has thousands of preowned jewelry to purchase, so you will not run out of options as a diamond jewelry buyer.

eBay has recently employed the services of Escrow.com to make your shopping experience safer for used luxury jewelry.

Buyers give feedback and can choose to shop from vetted stores.

eBay is a proven marketplace and takes a relatively low fee.
Cons
For consumers who wish to buy preowned jewelry, eBay is a complex market to navigate as there is no market guideline for pricing.

Historically fraud has been an issue for buyers and sellers transacting on eBay. As a result, there is no independent 3rd party verification before receiving or returning the used diamond item.

It is possible to pay a retail price for a used diamond ring.

Return policies can be tricky to navigate.

See our piece on Buying a used diamond ring here. https://www.diamocycle.com/a-guide-to-buying-a-used-diamond
5. Critics Pick: Used Diamond Specific Marketplaces
Pros
A marketplace that is entirely devoted to selling and buying used diamond rings.

Fine jewelry resale online.

Buy consignment jewelry online.

A diamond-specific marketplace is an excellent place to find GIA-certified diamond rings.

Deep discounts on second-hand jewelry.

Low markup on engagement rings.

Safeguards are in place to buy used engagement rings.
Cons
Not all marketplaces have strict listing policies, so it is essential to know if they sell "treated" synthetic or diamond simulants.

Not all marketplaces provide escrow services for buyers.

Not all marketplaces have a 3rd party gem lab to inspect the used diamond jewelry before purchase.

Not all marketplaces set pricing for sellers, so this is important to be aware of the marketplace's pricing policy.

Check out our preferred diamond-specific marketplace here. Diamocycle Marketplace
6. Buy Preowned Jewelry from My Friend?
Pros
You're helping a friend get cash for their used diamond.

You are safer than shopping on craigslist with a friend buying or selling diamonds for cash.

You get to see the discount engagement ring in person before purchasing.

You could get an excellent price on a previously owned diamond ring.
Cons
Tricky social interaction

Minimal choice of preowned diamond jewelry

Risk of unknowingly purchasing a diamond simulant, treated diamond, or fake diamond.

Inability to return or receive credit for a diamond purchased with cash.

Check out our content on How to tell if a diamond is natural. Here. How to Tell if a Diamond is Real — Diamocycle
Why Buy Your Preowned Diamond from an Online Jewelry Marketplace?
We want you to pay a fair and honest price for your used diamond engagement ring. With that in mind, we strongly recommend that you begin (and hopefully) end your search for where to purchase a preowned engagement ring online with a used diamond marketplace.
Given that they're online – when you purchase a used diamond ring online, you'll eliminate the fees added to your diamond sale price that local consignment jeweler needs to charge to cover their physical overhead. And beyond that, their expertise and niche in the market allow them to market lower prices for preowned engagement rings and, as a result, offer you a fair and reasonable price on used diamonds. So, given the combination of fast, secure, and fair market prices, buying online from a diamond marketplace truly is the place to buy a pre-loved diamond ring.
Why Diamocycle is the Best Place to Buy Used Engagement Rings?
Diamocycle is a leading online marketplace for buying and selling used engagement rings. We provide a unique experience to our customers that sets us apart from our competitors. Our platform offers a wide range of benefits that make us the ideal choice for anyone looking for a high-quality used engagement ring. Here are just a few reasons why Diamocycle is the best place to buy used engagement rings:
High-Quality Standards: We understand that buying a used engagement ring can be a daunting experience. That's why we ensure that every ring sold on our platform meets our high-quality standards. We use a third-party, well-established gem lab to conduct rigorous inspections of our pre-owned engagement rings. This guarantees that every ring is of the highest quality and authenticity.
Diverse Selection: Diamocycle offers an extensive selection of used engagement rings from a variety of sellers, giving buyers access to a diverse range of styles, sizes, and price points. Whether you're looking for a classic solitaire or a unique vintage piece, we have a vast collection to choose from.
Competitive Pricing: Buying a used engagement ring can be a cost-effective option without compromising on quality. At Diamocycle, we offer some of the most competitive prices online. The ability for customers to suggest a price ensures that our customers can find a ring that fits their budget, and buyers are able to get free market guidance from Diamocycle experts.
Safe and Secure Transactions: Our platform is designed to make buying and selling used engagement rings as safe and secure as possible. We use industry-leading encryption and security protocols to protect our customer's personal information and ensure that transactions are smooth and hassle-free.
Exceptional Customer Support: Our dedicated team of customer support specialists is always available to answer any questions you may have about our platform, the buying process, or individual listings. We are committed to providing the best possible buying experience for all of our customers.
In conclusion, Diamocycle is the best place to buy a used engagement ring. Our commitment to high-quality standards, diverse selection, competitive pricing, safe and secure transactions, and exceptional customer support sets us apart from our competitors. Partnering with a third-party, well-established gem lab to handle all our inspections guarantees that our customers get the best value for their money.
Diamocycle is proud to help Buyers get fair prices for diamonds in our secure marketplace. Buyer's Guide — Diamocycle
We also assist sellers to capture an honest price for their diamonds. Sellers can submit a Listing — Diamocycle. Our Family's legacy in the diamond jewelry business was founded in 1857, over 165 years ago.