We take pride in offering you insider knowledge and insight to help you navigate the diamond industry successfully. In this installment, we help you understand how to go about buying a used diamond and where to buy a perfect engagement ring for a fraction of the price.
Below are our 6 Must-Know Secrets for Purchasing and Shopping for a Used Diamond or Pre-Owned Diamond Engagement Ring: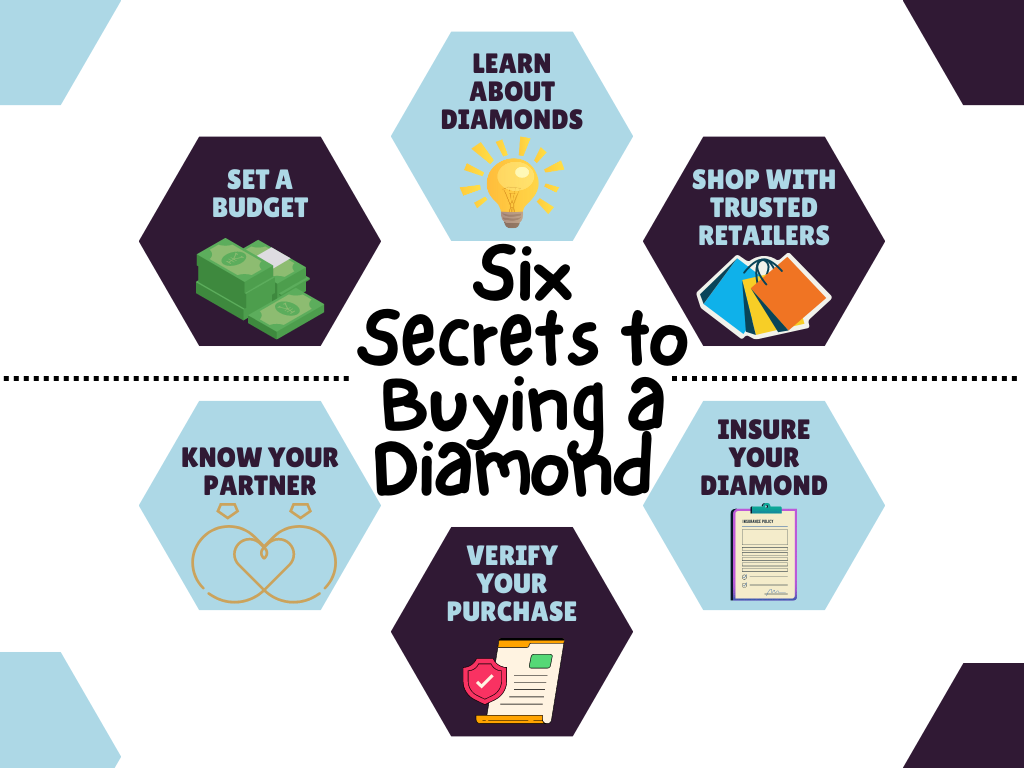 Set a Budget
Educate yourself before buying a used engagement ring.
The best place to find used diamond engagement rings is online. 
Understand what your partner wants.
Have your item viewed by an Independent Diamond Lab
Insure your item 
Bonus Content: Tips For Buying a pre-owned diamond
Why Buy a Used Diamond or Recycled Engagement Rings:
There are numerous advantages to buying a used diamond for the savvy shopper looking for a diamond. Diamond jewelry, like cars, depreciate and go through several channels and layers of markups. However, the frugal and wise buyer can save thousands by buying a used diamond engagement ring from a vetted online marketplace.
We take pride in helping our clients and consumers understand where to buy diamonds online. You can beat the industry with insider engagement ring tips to find the perfect used engagement ring for your partner. Recycled jewelry is also an environmentally friendly jewelry option for the eco-conscious consumer.
Clear Advantage of Buying Used Jewelry or Used Diamonds Online:
Contrary to tradition and popular belief, you no longer need to buy and sell diamonds locally. With online marketplaces, you're afforded lower prices and limitless selection.
The nature of online businesses means lower overhead for the consumer. Online merchants do not pay expensive rent, ongoing labor costs, electricity, and other utilities.
While traditional jewelry stores have high operating costs, the online diamond marketplace does not. The single greatest fear of the independent jeweler was the online jewelry store that could provide low-cost high-quality engagement rings.
While buying uncertified diamonds has an inherent risk (something we would never recommend), when you buy GIA-certified you are truly buying the item advertised. As consumers have begun to understand the opportunity to buy a loose diamond GIA certified online, the landscape of our industry has been absolutely transformed.
To the advantage of customers and consumers, the online marketplace has made traditional jewelry pawn shops and consignment jewelry stores obsolete.
Gone are the days of googling or asking: "Buy and sell diamonds near me" or "buy and sell jewelry near me", or "consignment jewelry near me." but should be asking. "How to buy and sell used jewelry online?"
Here are Our Six Secrets for How to Buy a Diamond Ring:
1. Set a budget.
Your budget will determine the carat weight and quality of the diamond you can purchase. 

T

he engagement ring price range of a high-quality .75 carat diamond can be similar to a low-quality 1.5-carat diamond ring. Unfortunately, cheap engagement rings that look expensive can fool the untrained eye. 
2. Take the Time to Learn About Diamonds.
We suggest this massive guide on everything you need to know about buying a used diamond. We created it for our loyal clients and are happy to share it with you. https://www.diamocycle.com/a-guide-to-buying-a-used-diamond
3. Shop Online With Trusted Retailers. 
The Best Used Diamond Marketplace to Shop Online are:
# 1 Diamocycle:
An Online Marketplace for Pre Owned Diamonds.
For Sellers:
If you're selling a diamond – here are the pros and advantages of using Diamocycle:
Very specialized. Diamocycle only deals in used diamonds, recycled diamond rings, second-hand wedding rings, and second-hand diamond earrings that are earth mined.

Sellers can achieve a higher price than online diamond auctions for those looking to resale jewelry. Sellers guide found here.

Seller's Guide — Diamocycle

Online diamond auctions sell your ring fast for less.

Diamocycle markets your item and does not get paid unless your used diamond ring sells. 

Diamocycle spends thousands of marketing dollars exposing your preowned engagement ring for sale to thousands of potential buyers through paid ads, original content, social media, and youtube productions. Sellers can create a listing here.

Submit a Listing — Diamocycle

. 

A seller no longer needs to give physical possession of their used diamond, unlike consignment jewelry stores
Our online marketplace is a secure place to find large diamond rings for sale. 
Cons:
A seller can not get immediate cash for their second-hand engagement ring. Instead, a seller must wait for a retail buyer to purchase their pre-owned diamond at a higher market price. 
For Buyers:
If you're looking to buy a used diamond or a pre-owned engagement ring, here's the advantages as a seller using Diamocycle.
Pros:
Diamocycle only sells used earth mined diamonds and pre-owned luxury jewelry.

Diamocycle only believes the pre-owned diamonds marketed on their platform should be earth mined because of the risk of confusing buyers. 

Diamocycle's competitors often sell manufactured diamonds which are losing value, diamond simulants, and used jewelry composed of treated diamonds.

Diamocycle sets the market price. As a result, buyers get a fair market price on affordable diamond rings. In addition, an independent gemology grading agency, not a biased in-house employee, confirms the validity of pre-owned diamonds before shipping to the customer. 

Pre-owned diamond rings for sale are genuinely environmentally friendly jewelry. 

Your second-hand diamond jewelry purchase helps the environment. For each diamond sold in the marketplace, a  tree is planted. Read

Our Environmental Impact — Diamocycle

. 

The CEO has a family legacy in the jewelry business dating to 1847 and is an expert in pre-owned diamonds. Check out Our

Company Info — Diamocycle

 

Buyers can read the Diamocycle Buyers Guide here

Buyer's Guide — Diamocycle

. 

Diamocycle's verification process greatly reduces the risk of purchasing second-hand jewelry online. 
Cons:
Diamocycle has limited inventory compared to some competitors. It is still gaining market share in the diamond ring resale industry. It has fewer diamonds for sale online than some of its competitors. 
# 2 Worthy:
Diamond Auction
For Sellers on Worthy:
Pros:
You get a diamond certificate and a fast sale. 

The net proceeds could be higher than a local transaction to a pawn shop or diamond jewelry buyers. A Worthy diamond auction could be advantageous if you need a quick sale of your second-hand wedding rings.
Cons:
You get a price that reflects a fast sale at a diamond jewelry auction. 

A diamond jewelry auction typically nets a lower amount than you can afford to wait for a retail customer in a used diamond marketplace. 

You are selling to resellers, not the final retail customer, so your net proceeds will be lower. 

Worthy does not sell to the general public so scoring a deal here is not an option unless you're a professional diamond jewelry buyer buying used jewelry. 
#3 & # 4 I Do Now I Don't & Have You Seen the Ring: 
An online market for Second Hand Engagement Rings.
For Sellers:
Pros:
You have marketplaces for budget engagement rings.

If you have to sell a manufactured diamond, these marketplaces accept them. 

Both offer diamond rings for sale by the owner. 
Cons: 
Your item can get lost in the mix due to the overwhelming amount of listings. 

"I do now you don't" offers a low direct offer price and another option to list at a higher price. However, the immediate offer will be much lower than you can afford to wait to sell your item. 

Also, both sites have several artificial diamonds competing with your natural earth mined diamond. 
For Buyers:
Pros: A online marketplace with a big selection of diamonds for sale online.
Cons:
Buyers beware that both sites deal in fracture-filled diamonds. Fracture-filled diamonds are filled with glass to enhance their appearance. So you may not get the deal you thought on that 2.5-carat diamond ring price you assumed when shopping for discounted diamond rings. 

Several listings on both websites are from dealers in the trade, so do not expect to get an excellent price from a professional reseller. 

You have to read the listing fine print on the ads and be careful not to purchase a treated diamond. 

Both sites allow sellers to set prices, which is ok if you're an experienced buyer who knows the market, but if you are not in the diamond trade, how do you know if you're getting a fair deal.

 Given the structure of both these marketplaces, you could be paying a "new" price for a "used" piece if you are not savvy, assuming a cheap real diamond ring. 

Also, "Have you Seen the Ring" uploads diamonds directly from Rapnet's database, a massive online trading platform for wholesalers. They then add a commission to the database and do not readily disclose that these are new diamonds and not repurposed diamonds. Therefore, it is not an apparent fair deal on a 1.5-carat diamond ring price. 

It would be safer to purchase a 1.5 ct diamond ring from a marketplace that sells new diamonds like the Blue Nile, specializing in loose diamonds. Blue Nile sells GIA-certified diamonds, does not allow treated diamonds, and has clearer markups. In addition, it is a more established business with better return policies for its customers.

Both of these sites offer a return policy of customer credit instead of a partial return of funds. 
Once you navigate the ins and outs of the online diamond marketplaces – here's our next tip:
4. Know your partner's preferences and be prepared
Be flexible.

The more flexibility, the better are your chances of getting the hottest deal possible on used jewelry. 

Be patient.

Once you know what you (and they!) want, be patient. The perfect preowned jewelry piece might get listed, and you can jump on the deal, but don't buy something that you will regret. 

Be prepared.

Have cash in hand. When shopping for used jewelry for sale, be prepared to purchase promptly. Remember you are competing with the diamond experts who shop for online deals to resell them at a markup. Given that, amazing deals and listings can move quickly. 
5. Have Your Recycled Engagement Ring Verified by an Independent Diamond Lab
DON'T GET HUSTLED!
An ideal marketplace has your used diamonds or preowned wedding rings vetted by an independent professional to establish their authenticity. However, be wary of any marketplace that uses its in-house team of people or does not use an independent lab to vet your purchase. 

An ideal marketplace should have a method for a secure transaction that protects both buyer and seller.

An ideal marketplace should deal with strictly natural, not manufactured diamonds.
6. Have your Used Diamond Engagement Ring or Used Diamond Insured
Have your item insured-Have your item insured by a reputable insurance agency, like Jewelers Mutual. This will guarantee that no matter what happens to your diamond – your purchase and diamond jewelry item is protected. 
With these Six Secrets, we believe you can be successful in buying a pre-owned diamond.
Here are Some Bonus Tips for Buying a Pre-owned Engagement Ring:
Educate yourself on the 4 Cs: The 4 Cs are the standard for evaluating the quality of a diamond. They stand for Cut, Color, Clarity, and Carat weight. Familiarizing yourself with these factors can help you make an informed decision when buying a diamond.
Consider buying a used diamond: Buying a used diamond can be a great way to save money while still getting a high-quality diamond. Look for reputable sellers who offer detailed information about the diamond's quality and condition.
Check for certification: Make sure the diamond comes with a certificate from a reputable organization like the Gemological Institute of America (GIA) or the American Gem Society (AGS). This can help ensure that the diamond is genuine and accurately graded.
Shop around: Don't settle for the first diamond you come across. Shop around and compare prices and quality from different sellers to ensure you're getting the best deal.
Consider a different shape: Round diamonds tend to be the most popular and therefore the most expensive. Consider a different shape, like a princess or cushion cut, which can be just as beautiful but more affordable.
Don't forget about the setting: The setting can play a big role in the overall appearance and value of the diamond. Make sure to choose a high-quality setting that complements the diamond and will stand the test of time. But remember, the setting can always be replaced or repaired in a used diamond ring.
By following these tips and doing your research, you can buy a diamond with confidence and get the best value for your money.
If you're interested in becoming a buyer with Diamocycle, please read Our Buyer's Guide: